USA Today (9/23, Rubin) reports that on Tuesday, the FDA "banned the sale of candy-, fruit- and clove-flavored cigarettes. The move was authorized by the Family Smoking Prevention and Tobacco Control Act, which President Obama signed in June."
"These flavored cigarettes are a gateway for many children and young adults to become regular smokers," FDA commissioner Dr. Margaret A. Hamburg said, according to a front-page story in the New York Times (9/23, A1, Harris). The Times reports, however, that there has been confusion among distributors as to what constitutes a cigarette, and if flavored cigars or cigarillos are affected by the ban.
The story started back in the 1950s. Cigarette executives reviewed a report from their marketing department. It said that most of their best customers began smoking between the ages of 9 and 15 years of age. It said that by the time they realize that they are addicted, its too late for them to do anything about it and they were customers for life. The obvious conclusion to these morally bankrupt millionaire tobacco executives was to design slick adds that would appeal to 9-year-olds and start shopping for a bigger yacht and a new corporate airplane.
If you thought that the Billion Dollar tobacco settlement would change these folks, you were wrong. They are back with this new gimmick to hook kids on tobacco.
The Wall Street Journal (9/23, Dooren) reports that although the FDA warned against trying to circumvent the bans by introducing similar products, some flavored cigarette-like cigars are expected to stay on the market while the confusion persists.
The Washington Post (9/23, Layton) explains that FDA officials hope the ban will "cut down on the number of children and young adults who pick up the smoking habit." Lawrence Deyton, director of the FDA's Center for Tobacco, noted that "children are three times as likely as adults to smoke a flavored cigarette."
The White House's Assistant Secretary for Health, Howard Koh, called tobacco addiction a "public health catastrophe," ABC News (9/22, Hartman) reported on its website. Koh "put the cigarette industry on notice that this is just the beginning of a 'new chapter in public health efforts at tobacco control.'" Deyton noted that the FDA "will soon require…cigarette makers to turn over information about the 'constituent components of tobacco products.' The FDA will work with CDC scientists to investigate the safety of those ingredients." This is because the agency "also is considering bans on menthol cigarettes and other flavored tobacco," the Los Angeles Times (9/23, Hirsch) reports.
The AP (9/23, Felberbaum) notes that a law signed in June "allows the FDA to regulate the industry. Its authority includes the ability to ban certain products, reduce nicotine in tobacco products and block labels such 'low tar' and 'light.'" Tobacco companies also will be required to cover their cartons with large, graphic warnings. AFP (9/23) also covers the story.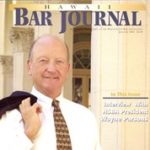 A resident of Honolulu, Hawaii, Wayne Parson is an Injury Attorney that has dedicate his life to improving the delivery of justice to the people of his community and throughout the United States. He is driven to make sure that the wrongful, careless or negligent behavior that caused his clients' injury or loss does not happen to others.