In the second installment of an interview with President Barack Obama, Matt Lauer on the NBC Today Show (2/2, 7:13 a.m. EST) noted the "massive peanut butter products recall" traced back to a Georgia plant that "has a history of sending out products even though there have been traces of salmonella found." Lauer asked, "The question, the obvious question people want to know, is the FDA doing its job?" In response, the President says that because the "FDA has not been able to catch some of the things that I expect them to catch… we're going to be doing a complete review of FDA operations." The Washington Post (2/3, A4, Layton), Bloomberg News (2/3, Blum) and the New York Times (2/3, A13, Harris) also report the story.
Kellogg Co recalls some Keebler Cookies and Special K bars. The AP (2/3) reports, "Kellogg Co. said Monday it is recalling some Keebler Cookies and Special K Meal Bars and expand some previous product recalls amid the growing scope of a national salmonella outbreak linked to a Georgia peanut butter plant." The AP adds, "The cookies and bars do not contain any peanut ingredients from Peanut Corp. – the company at the center of the investigation. But they were produced at another company's facility on the same line as products that were made for other companies using potentially contaminated Peanut Corp. ingredients."
USA Today (2/3, Schmit, Weise) reports, "The economic wallop from a salmonella outbreak in peanut products continues to spread with more than 800 recalls and more expected this week." The article notes that "the recall, one of the largest ever, started with bulk peanut butter, spread to crackers and cookies and has engulfed products as diverse as kettle corn, pad Thai and trail mix."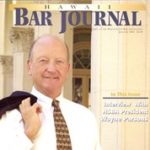 A resident of Honolulu, Hawaii, Wayne Parson is an Injury Attorney that has dedicate his life to improving the delivery of justice to the people of his community and throughout the United States. He is driven to make sure that the wrongful, careless or negligent behavior that caused his clients' injury or loss does not happen to others.