The AP (7/31, Jalonick) reports that by a 283-142 margin, the House yesterday "passed a far-reaching food safety bill Thursday in the wake of the recent outbreak of salmonella in peanuts that killed at least nine people." President Obama "praised the bill soon after it was passed, calling it 'a major step forward in modernizing our food safety system.'" The AP adds that "after the bill failed" under suspension of House rules, "Democrats scrambled to put the legislation back on the House floor Thursday under a rule that required a simple majority to pass."
The Washington Post (7/31, Layton) reports that the House bill "affects every aspect of the US food system," placing "significant new responsibilities on farmers and food processors to prevent contamination before it occurs — a departure from the country's reactive tradition that has relied on government inspectors to catch tainted food after the fact." The measure "was backed by a raft of consumer groups and trade associations but faced opposition from some farm interests and their House Republican allies, who charged that it gives too much authority to the FDA and will lead to higher costs and burdensome paperwork without necessarily making food safer."
"To help finance the inspections," reports the New York Times (7/31, Neumann), "the bill would impose a yearly fee of $500 to be paid by food-processing facilities, with a $175,000 cap for large companies with multiple facilities." CBO "has estimated that the fee would generate $1.4 billion over the next five years, covering about 40 percent of the FDA's costs for carrying out the expanded inspections and other measures in the bill."
McClatchy (7/31, Doyle) reports that "the Senate, where debate can really be stretched out, still must approve its own version. House and Senate negotiators will then have to work out their differences." Meanwhile, says the Wall Street Journal (7/31, Zhang), "changes already are afoot at the FDA. The agency is putting more emphasis on food safety and stepping up efforts to prevent outbreaks." Today, "FDA Commissioner Margaret Hamburg is expected to announce guidelines for the food industry aimed at preventing contamination of tomatoes, melons and leafy greens." Bloomberg News (7/31, Faler) also covers the story.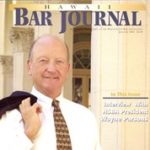 A resident of Honolulu, Hawaii, Wayne Parson is an Injury Attorney that has dedicate his life to improving the delivery of justice to the people of his community and throughout the United States. He is driven to make sure that the wrongful, careless or negligent behavior that caused his clients' injury or loss does not happen to others.