The CBS Early Show (4/27, Gielan, 8:00 a.m. EDT) revisited the peanut-borne salmonella outbreak earlier this year thought to have contributed to nine deaths and hundreds of illnesses nationwide. Former FDA assistant commissioner William Hubbard appeared on-camera, saying that the outbreak, ultimately linked to the Peanut Corporation of America, "is a poster child for the many flaws in our food safety system." Hubbard says that the agency in the 1970s "had the manpower to inspect every American food plant every-other year. Now, he says, the FDA budget only enables such inspections every 10 years." Hubbard "wants new laws forcing producers to admit to their problems." The story is also posted on the CBS News (4/27) website, which also recaps a USA Today Live on the "Early Show" Monday, in which USA Today Live Managing Editor Laura Ashburn called the nation's food safety system "severely broken." Ashburn added that "third-party independent inspectors… give ratings of superior or excellent when the producers are not."
On the front page of its Money section, USA Today (4/27, 1B, Schmit) reported extensively on conditions at Peanut Corporation of America's Blakely, Georgia plant, noting that food manufacturer Nestlé twice audited it and rejected the company as a supplier due to its findings, while Kellogg and other firms never audited the plant but relied on ratings it received from third-part auditors. The account also includes former FDA assistant commissioner Hubbard's observation on third-party audit that "the whole idea isn't working." He adds, "The inspectors are either telling the client what they want to hear, or they're doing a perfunctory audit, or they're poorly trained."
Oregonians urge improvements to food safety system. The Oregonian (4/27, Terry) reported, "More than 20 people from Oregon and other states who have been hit by recent food poisonings are converging in Washington, D.C., this week to press Congress to overhaul the country's food safety system." Peter Hurley has become "a sudden advocate for a safer food system" after his son was sick for eleven days. He said, "Everybody has to eat safe food and drink clean water to survive… It crosses all socioeconomic boundaries from the richest person to the poorest of the poor."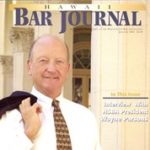 A resident of Honolulu, Hawaii, Wayne Parson is an Injury Attorney that has dedicate his life to improving the delivery of justice to the people of his community and throughout the United States. He is driven to make sure that the wrongful, careless or negligent behavior that caused his clients' injury or loss does not happen to others.