TAPUR stands for Targeted Agent and Profiling Utilization Registry – it is a beacon of hope for cancer patients seeking treatment when first line chemotherapy or radiation have failed. Let me explain what it is and how it works. TAPUR is a new, giant clinical trial that includes many cancers and many new treatments and that makes new treatments available at no cost to many patients who have run out of options with conventional chemotherapy.
First of all drug companies offer approved targeted therapies for many kinds of cancers. Each treatment is a new "targeted" therapy. That means the drug is made up to match the unique genetic makeup of the patient's cancer cells. That's right, these are therapies that are designed specifically for the patient's genetic make-up. Why would a drug company offer these FDA approved treatments available for free? Because they want to collect data on whether or not they work. Initial results have shown promise, that's why the FDA approved the drug's use.
A patient wanting to find a targeted therapy that is matched to their genetic makeup can have their genetics analyzed by FoundationOne which analyzes the patient's genetics:
FoundationOne®, FoundationOne® Heme, and FoundationACT™ are fully informative genomic profiles that help physicians make treatment decisions for patients with cancer. Our assays  identify the molecular growth drivers of a patient's cancer and help oncologists match them with relevant targeted therapies and immunotherapies.
TAPUR was created by the American College of Clinical Oncology (ASCO):
In launching the Targeted Agent and Profiling Utilization Registry (TAPUR) study, ASCO aims to collect "real-world" data on clinical outcomes to help learn additional uses of molecularly-targeted cancer drugs outside of indications approved by the Food and Drug Administration (FDA). The prospective, non-randomized clinical trial will collect information on the anti-tumor activity and toxicity of commercially available, targeted cancer drugs in a range of cancer types, including any advanced solid tumor, multiple myeloma or B cell non-Hodgkin lymphoma with a genomic variation known to be a drug target or to predict sensitivity to a drug.

In oncology, it's becoming more common to conduct tumor genomic profiling—particularly for patients who have advanced cancer or patients who have exhausted all standard treatment options—to determine whether or not the results might suggest a previously unrecognized therapy option. Although not always the case, it may be reasonable to expect that a targeted agent that is effective in patients selected according to a biomarker (i.e., genomic alteration) in one type of cancer may be effective for patients with another type of cancer that harbors the same genomic alteration. Thus, genomic profiling might reveal therapy options for patients such as treatment with an investigational agent in a clinical trial or use of a targeted therapy drug that has been approved by FDA for a different cancer.

However, it's often difficult for patients to get access to and reimbursement for anti-cancer agents used off-label. And, even if an oncologist can get access to a drug and treat the patient, the larger medical community has no way to learn whether that particular drug worked in that patient with those particular characteristics. Current prescribing practices don't capture the outcomes of patients who receive therapies off-label.

ASCO hopes to address both of these problems with the TAPUR study.
TAPUR objectives are:
To describe the anti-tumor activity and toxicity of commercially available, targeted anti-cancer drugs used for treatment of patients with an advanced solid tumor, multiple myeloma or B cell non-Hodgkin lymphoma with a genomic variant known to be a drug target or to predict sensitivity to a drug.
To record the treatment-related adverse events experienced by patients.
To create a prospective database of patient outcomes following treatment of patients with advanced solid tumors, multiple myeloma or B cell non-Hodgkin lymphoma that harbors a genomic variant known to be a target of an approved targeted anti-cancer drugs or to predict sensitivity to a drug with a commercially available targeted agent provided by the study.
To catalogue the commercially available tumor genomic tests used by clinical oncologists in the usual care of patients with advanced cancer.
To determine the concordance of the treatment plan proposed by the treating oncologist with that recommended by the Molecular Tumor Board in applicable situations.
The TAPUR study will be based upon real patients who receive new, innovative targeted treatments, and the endpoint is:
Objective tumor response or stable disease at 16 weeks after treatment initiation are the primary study endpoints. The study will collect information on progression-free survival, overall survival, duration of treatment on study and treatment-related high grade and serious adverse events.
TAPUR defines a targeted therapy:
A targeted therapy delivers a treatment that is aimed at a specific molecular feature of the cancer cell. Often this is a genomic element that enables the cancerous cell to grow uncontrollably or prevents the body from identifying and eliminating the cancerous cell. The targeted therapy inhibits the genomic element to attack cancer growth at the molecular level.
TAPUR has its own group of oncologists to screen patients and match them up with a treatment. Who is eligible?
TAPUR is designed to include a broader patient population than is typically enrolled in clinical trials. The study will include patients who have any advanced solid tumor, multiple myeloma, or B cell non-Hodgkin lymphoma and are no longer responding to standard anti-cancer treatment or for whom no acceptable standard treatment is available. If a patient has tumor testing results that reveal a genomic variation, a clinician will review drugs available on TAPUR that potentially target that variation. The clinician can choose from one of the drug-cancer-gene matches specified in the study or request a review by the study's Molecular Tumor Board. Patients will be screened to determine if they are healthy enough to participate based on broad inclusion/exclusion criteria.
If it turns out that a patient who applies does not match up with a treatment?
The TAPUR Molecular Tumor Board (a group of experts convened by ASCO) will provide review and discussion of cases that do not fit the criteria specified in the protocol, as well as cases where the treating physician requests guidance. The ultimate treatment will be the decision of the patient and the treating physician. Some possible outcomes other than enrolling on the TAPUR study include:

Treatment on another clinical trial. The Molecular Tumor Board will be able to provide information on alternate ongoing clinical trials for consideration. 
Treatment with off-label therapy outside of TAPUR protocol. The treating physician may recommend administering an off-label commercially available therapy that is not included in TAPUR.
Since the cost of these new drugs can be astronomical TAPUR offers the drugs at no cost if the patient is matched genetically to one of the participating drugs:
Research participants in TAPUR will receive the anti-cancer drugs at no charge. Administration of the drugs is according to the FDA-approved dosing and determined by the treating physician. As a result, ASCO expects that routine clinical care costs will be covered by the patient's insurance plan. Patients who receive treatment with a drug available in the protocol will be followed for standard toxicity and efficacy outcomes including tumor response, progression-free and overall survival as well as duration of treatment and serious side effects.
The genomic testing that is necessary can be obtained by the patient:
The patient and his/her physician will decide if performing a genomic test on a tumor specimen is medically appropriate. The choice of test is up to the physician and patient, including whether to use a test performed at any point during the patient's care. Because TAPUR does not require new testing, the genomic testing is not provided as part of the TAPUR study. To be eligible to participate in TAPUR, a patient must have results from a genomic test performed on a tumor specimen or on cell-free DNA in plasma ("liquid biopsy") or an immunohistochemistry (IHC) test for protein expression performed on a tumor specimen, that demonstrates that a genomic variant known to be a drug target or to predict sensitivity to a drug is present in the patient's cancer.

The test must be performed in a lab that has obtained CLIA certification, CAP accreditation, and for labs offering services to residents of New York, accreditation from the state of New York. Contact TAPUR@asco.org for more information.
If a patient who has ovarian cancer wants to explore the options offered by TAPUR, go to the TAPUR website and register and ask your oncologist to assist in supplying a genetic profile of your cancer.
I can help at no charge to the patient.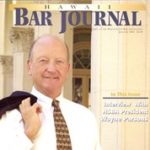 A resident of Honolulu, Hawaii, Wayne Parsons is an Injury Attorney that has dedicate his life to improving the delivery of justice to the people of his community and throughout the United States. He is driven to make sure that the wrongful, careless or negligent behavior that caused his clients' injury or loss does not happen to others.