In a story about the Bush administration's midnight regulations, focusing on the efforts at pre-empting lawsuits in state courts, MSNBC with Keith Olberman (12/16, 8:32 PM EST) reported that:
in the little of one month remaining in the administration, the American Association for Justice, a group representing America's trial lawyers, have identified a dozen rules published for public comment, which Mr. Bush has not pushed through," which would preempt state law. For instance, "women who are pregnant or breastfeeding may want to check out page 3,831 of this year's federal register which proposes new rules for drug warning that is apply to women in your condition, but would also preempt state laws giving Americans the right to ask a jury to hold drug companies responsible for their labeling.
The public is rarely informed about the consumer threats to our families by attacks on the publics' right to access to justice in the courts. The same CEOs and CFOs of big corporations and the powerful doctors' lobbyists, that have caused the financial meltdown that threatens millions of jobs, and the meltdown of the American health care system, have attempted to brainwash the public and legislators as they passed laws and regulations that slammed the courthouse doors shut to regular people who have been injured or discriminated against.
Keith Olberman of MSNBC and the American Association of Justice have now gone public with the truth:
Also, "there is similar language in proposed FDA regulations on labels for over the counter drugs" such as "calcium pills and sunscreen. And then [there are] the proposed regulations from the national highway safety transportation which includes language embedded on everything from rearview mirrors, to brake hoses, to motorcycle brakes, to motorcycle helmets." And the "rules on electric hybrids" is "a proposition that the AAJ said is so broad it preempts your right to sue for about anything. Even if you ended up with an electric hybrid pinto."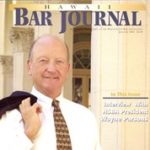 A resident of Honolulu, Hawaii, Wayne Parson is an Injury Attorney that has dedicate his life to improving the delivery of justice to the people of his community and throughout the United States. He is driven to make sure that the wrongful, careless or negligent behavior that caused his clients' injury or loss does not happen to others.