Bloomberg News (4/21, O'Reilly) reports,
"Wyeth, the drugmaker being acquired by Pfizer Inc., must face a lawsuit by a woman who claims her breast cancer was caused by the menopause medicine Prempro [estrogens, conjugated/medroxyprogesterone], a Texas appeals court ruled." The court decided that "Susan Brockert's 'failure-to-warn' claims aren't preempted by federal drug-labeling regulations, overturning a district judge's finding from February 2007."
In its decision, "the appeals panel cited last month's U.S. Supreme Court decision upholding a $7 million award to a musician who lost her arm after being injected with Wyeth's Phenergan [promethazine] nausea treatment." The Supreme Court had ruled that "patients can sue drugmakers for failing to provide adequate safety warnings, even when a treatment and its packaging are approved by the U.S. Food and Drug Administration." The case will now be "sent back to the lower court for further proceedings." The Bloomberg report goes on to say that:
Wyeth, based in Madison, New Jersey, is the target of about 5,000 lawsuits over its menopause drugs Prempro and Premarin. As many as 6 million women took the hormone-replacement therapies to ease menopause symptoms, such as hot flashes and mood swings, before a 2002 study turned up cancer links.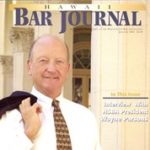 A resident of Honolulu, Hawaii, Wayne Parson is an Injury Attorney that has dedicate his life to improving the delivery of justice to the people of his community and throughout the United States. He is driven to make sure that the wrongful, careless or negligent behavior that caused his clients' injury or loss does not happen to others.