ALERT for Hawai'i CHASE CREDIT CARD HOLDERS:
I have a Chase Visa credit card issued affiliated with my United Airlines Mileage Plus frequent flier account. Chase is adding small print to my agreement that takes away my constitutional rights to take them to court if they cheat me or make a mistake and overcharge me. The trick, which is common by big companies like Chase, is called Forced Arbitration. For a good explanation of Forced Arbitration and what you can do to fight back, can be found at the American Association of Justice (AAJ) website. Another great consumer rights lawyer is Paul Bland at Public Justice. Public Justice materials on Forced Arbitration will arm you with everything you need to know to protect your rights. First of all the "arbitrator" is chosen by them. Secondly they choose the place where the arbitration is held. It may be very inconvenient for you, but not for them. Thirdly, you can be blocked from bringing certain kinds of claims to hold them accountable. Forced Arbitration is bad! Forced arbitration is anti-consumer.
The real nasty thing that Chase is doing is to create a way to "opt out" of this trick clause, but then require you to follow a complicated process that they know few consumers will complete And most consumers won't even  know about it.
Let's make America great again by standing up to these greedy corporate tricks on Americans.
Here is a simple, painless way to beat them and optout!
Rejecting Chase's efforts to force you out of court just got easier! @my_radvocate created a website that will send the letter for you for free, stamp and everything: myradvocate.com/chase-opt-out. Let Chase know you're not willing to give up your rights.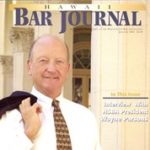 A resident of Honolulu, Hawaii, Wayne Parsons is an Injury Attorney that has dedicate his life to improving the delivery of justice to the people of his community and throughout the United States. He is driven to make sure that the wrongful, careless or negligent behavior that caused his clients' injury or loss does not happen to others.